Safe Swimming Beaches
Why not take the course from the professional who wrote the book?!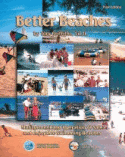 Aquatic Safety Research Group is proud to offer the only national education and training program designed for beach and waterfront managers. The text, written by our own Dr. Griffiths and published by the National Recreation and Park Association, is the authoritative publication on beach management.
Our Safe Swimming Beaches seminar offers beach managers the opportunity to learn the fundamentals of beach management by comparing industry standards against daily operations of beaches from around the world.
Aquatic Safety Research Group is also proud to offer the only two nationally-recognized instructors for the Safe Swimming Beaches seminar. Both Tom Griffiths and Shawn DeRosa bring a dynamic and relaxed teaching style to the Safe Swimming Beaches seminar, and encourage maximum participation and sharing among all participants. Each participant will receive a certificate suitable for framing.

If you operate a swimming beach, then you don't want to miss this opportunity.
Download the Safe Swimming Beaches flyer.
What Safe Swimming Beaches students have said about the course:
"A wealth of knowledge about the design and operation of beaches presented with a good blend of common knowledge sense and humor. [Safe Swimming] Beaches is a must for Aquatic Administrators."
Steve Cavey, King County Parks Aquatics, Seattle, Washington
"The most comprehensive training we have ever had on the subject. The sharing of real life experiences by both the facilitator and the attendees was extremely valuable. I highly recommend [Safe Swimming] Beaches for anyone providing beach services, whether they be public or private." Glen Cobb, Field Support Manager, Ohio State Parks
"Whether you're a lifeguard, aquatic director, or recreation manager, Safe Swimming Beaches will highlight key safety standards for operating your waterfront facility. Compare your swimming beach to others across the nations, and see how you measure up." Shawn P. DeRosa, Former Aquatics Program Coordinator, Massachusetts State Parks
"This is a course with vital information for anyone with the responsibility of a beach. The risk management information alone is of value, but there is so much more. After the [Safe Swimming] Beaches course, I was able to clearly look at problems of water quality testing and signage issues that had previously been a mystery to me." Dianne Mailloux, East Hartford Parks and Recreation, East Hartford, Connecticut
Key Topics
Design, Operation and Management
Surf and flat water beaches; underwater features; above water features; hours of operation; pets/animals; nude beaches; thongs; alcohol; driving; patrols; endangered species; accessibility; Adopt-a-Beach programs; equipment

Water Quality
Pollution- point source and non-point source; specific enteric pathogens - corrective and preventative measures; controlling plants and animal pests; water testing, including the new EPA testing requirements mandated by the Beach Act of 2000

Water Safety
Beaches as open space; unsupervised children; guarded vs. unguarded beaches; signage; policies; procedures and practices for guarded beaches/waterfronts; USLA; systematic scanning

Risk Management and Liability
Weather; signage; policies and procedures; personnel and programs
Beach Safety Tips
Take a look at our beach safety tips for families in addition to resources for beach managers!

Sponsor a Safe Swimming Beaches Seminar
For more information on sponsoring a Safe Swimming Beaches Seminar, contact us.
Related Courses
If you supervise either an indoor or outdoor swimming pool facility or a waterpark in addition to a waterfront area you should consider enrolling in Practical Pool Management Plus - our two-day workshop for swimming pool operators.

For a complete listing of states that recognize our PPM+, take a look here.
Contact us for details!