Aquatic Products and Links
Aquatic Safety Research Group encourages all aquatic professionals to take advantage of the many useful resources available online. To order Griff's Guard Stations, go to Paragon Aquatics, and to order the Pool Safety Sign System, go to Clarion.

Bookmark this page before visiting some of the web sites. If you know of a web site that you find particularly useful for your area of aquatic management, please let us know! Contact us!
Griff's Guard Stations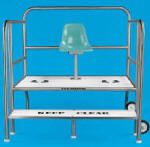 Griff's Guard Station™ and Griff's Guard Station™ with Sun Shade were developed as the perfect partners in water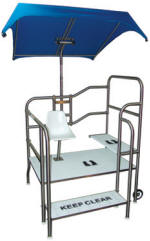 safety for Tom Griffiths'
Five-Minute Scanning Strategy
®. Together they help increase lifeguard effectiveness and thereby increase water safety and enjoyment through accident prevention.
The
Five-Minute Scanning Strategy
® helps lifeguards keep alert on the job. It is based on physiological and psychological task-involved research. The process requires guards to perform specific tasks in five minute duty segments.
Download today the
Specification Sheet
for Griff's Guard Stations and see the advantages these revolutionary designs offer your lifeguards! To order Griff's Guard Stations, go to
Paragon Aquatics
.
Visual Pool Safety System
Featured on CNN's Sanjay Gupta, MD
Safety Signage to Reduce Swimming Pool Accidents and Liability
The Problem: Pool signage that we've grown up with, just doesn't work. Important, need-to-know safety messages are often buried in a list of pool rules. Many times words are used instead of state-of-the art, standards-compliant, attention-getting graphical symbols. In short, many pool signs are ineffective.

The Solution: Developed with Dr. Tom Griffiths of Aquatic Safety Research Group, the Clarion Pool Safety Sign System is a proprietary set of signs that contain both the detail needed to adequately inform pool users and the brevity needed to make sure the signs are not dismissed.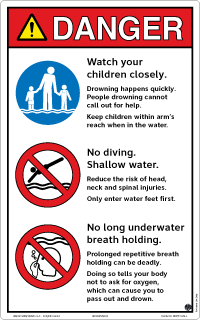 Graphic Based. The Clarion Pool Safety Sign System uses ISO-formatted graphical symbols to draw attention and communicate the core safety messages across language barriers.
Set Apart. The critical safety messages are not buried in a list of pool rules. Instead, they're separated and displayed in several standards-compliant eye-catching formats.
Variety. Clarion Pool Safety Sign System utilizes attention-grabbing sings, ANSI signs with explanatory text. Together, these signs reiterate, reinforce and explain the most important pool safety messages and give pool operators the means to prove that they have met their "duty to warn."
Depth. Signs are carefully developed, balancing the detail needed to convey the intended message and the brevity required so the message is not dismissed. Each sign's message is tailored for its specific location, viewing distance and anticipated viewing time.
Proven. The four accident prevention signs have passed rigorous multi-age target audience comprehension testing, providing the premises owner with positive evidence that adequate warnings were posted.