ARM: Aquatic Risk Management
Why not take the pool operator course from the professionals who wrote the book?!
With
Aquatic Safety Research Group
's new A.R.M. Series, you'll "arm" yourself with an understanding of the applicable standards of care. Our risk management workshops offer unparalleled insight into the operation of swimming facilities.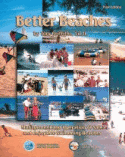 Choose the one-day seminar that meets your specific needs:
| | | |
| --- | --- | --- |
| Hotel / Motel Pools | Public Swimming Pools | Beaches |
Upon completion of an A.R.M. Series seminar, participants will receive a certificate suitable for framing.
Download the ARM flyer to learn more about this workshop.
To host an ARM workshop, download our "How to Host an ARM Workshop" flyer.
We strive to educate the public and those in the aquatic industry about water safety in the hopes of preventing a tragedy. Take a look at our Beach Safety Tips.
ARM Hotel/Motel Pools
Standards of Care
Negligence
Practical Risk Management
Walkabouts
Body Blindness
Seven Deadly Sins
Entrapment
Signage
Real Aquatic Court Cases
ARM Public Pools
Standards of Care
Negligence
Practical Risk Management
5 Minute Scanning Strategy
Shallow Water Blackout
B9dy Blindness
Seven Deadly Sins
Entrapment
Signage
Real Aquatic Court Cases
ARM Beaches
Standards of Care
Negligence
Practical Risk Management
5 Minute Scanning Strategy
Shallow Water Blackout
Rip Currents
Lost Children
Top 7 Beach Safety Tips
Signage
Real Aquatic Court Cases