Practical Pool Management
Why not take the pool operator course from the professionals who wrote the book?!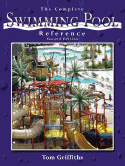 This program is designed for those pool or aquatic facility operators or supervisors who, because of the often complicated nature operating a pool, need special education and training in pool operations.
This program is ideal for those in the hotel/motel industry as well as for head lifeguards and even those with Certified Pool Operator or Aquatic Facility Operator certification who need refresher training.
Participants who need certification to meet local (or state) health code requirements are eligible to take the PPM examination. Those who pass the written exam with a minimum score of 70% will receive a certificate suitable for framing and will be entered into a database of pool managers certified through Aquatic Safety Research Group. Certification must be renewed every five years.
Download the Practical Pool Management flyer.
What PPM students have said about the course:
"Best Pool Operator's Course I have EVER had! I have CPO and AFO training."
"After twenty-five years in aquatics, I was surprised to find an old dog CAN learn new tricks!" (Marc Solomon - Miramar, FL)
"Time well spent. Practical information that you can use to make immediate improvements in your program." (Matt Cofrancesco - Austin, TX)
"The PPM course was packed with information that will help to rejuvenate my facility, staff, patrons and me!" (Jerry Span - Seminole, FL)
"Covered some very essential basic information that most people overlook or simply don't want to address." (Pool Operator with 11+ years of experience)
"Great job! Very good for beginner pool operators. I can't wait to put the book to use. I love that all of the info is all in one book!" (Athletic Business 2004 PPM participant)
Key Topics
Circulation: Pumps, Pipes, Outlets
Body, Hair and Limb Entrapment
Filtration: Sand, D.E., Cartridge
Backwashing
Routine Operations
Chemical Handling and Safety
Precautions
Water Balance
Water Chemistry: Chlorine, pH,
Alternative Sanitizers
Chemical Adjustments
Aquatic Risk Management
Head-First Entries
Pool Signage
and more!
Recognized by
Arkansas Dept. of Health
Delaware Dept. of Health & Social Services, Division of Public Health
Idaho Dept. of Health & Welfare
Maryland Dept. of Health & Mental Hygiene
Massachusetts Dept. of Public Health, Div. of Community Sanitation
Nebraska Dept. of Health & Human Services
North Carolina Dept. of Environment and Natural Resources, Div. of Environ. Health
Pennsylvania Dept. of Agriculture
South Carolina Dept. of Health and Environmental Control
For a complete listing of states that recognize our PPM, take a look here.
Contact us for details!
Scheduling a Program
To schedule a Practical Pool Management course, go to DeRosa Aquatic Consulting.
Related Courses
Pool operators that need more in-depth knowledge of pool and spa operations, including information on staffing and lifeguard management, should consider taking Practical Pool Management Plus. PPM+ Practical Pool Management Plus is a two-day workshop designed to teach you the basics of operating and managing a swimming pool. Become certified as a pool operator after successful completion of this course.